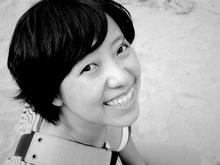 Poet and writer Ma Yan, born 1979 in Chengdu, Sichuan Province, China, graduated from Peking University's Chinese Dept., majoring in Ancient Chinese Texts. There she co-founded the annual Wei Ming Poetry Festival, and the cultural website "La Jeunesse". She returned to Chengdu in 2003, continuing to write and publish. In late 2010, visiting Shanghai, Ma Yan took her own life.
Her works include Études: 1999-2000, selected poetry and fiction; That Bewitching Taste, a volume of poetry; and Exaltations, a sequence of essays. Her 2012 Collected Poems and Collected Essays appeared posthumously, followed by the 2017 publication of her anthology A Few Friends. Recipient of a Pearl River International Poetry Festival Young Poet Prize and the Liu Li'an Poetry Award, she was also poet-in-residence at Beijing's Shangyuan Museum.
Poet and critic Zhang Dinghao remarked on Ma Yan's writing that "one encounters in her work a startlingly honest voice. Amidst a contemporary poetry too often fond of witty games, visual gimmickry, and social appeals, she strives for a purer form, preferring to 'maintain truth, discover beauty, and approach the sublime'." 
As she wrote once, she wished "to transform the self into a beam of intense light, shining where it should."
That light is what remains.
馬雁,詩人,散文作家。1979年2月28日生於成都,2001年畢業於北京大學中文系古典文獻專業,在校期間策劃組織了首屆北大未名詩歌節,2000年與友人一道創建了著名的新鋭文化網站「新青年」,2003年返回成都生活,2010年12月底赴上海訪友期間墜樓辭世。
著有詩歌小說合集《習作選:1999—2002》,詩集《迷人之食》,隨筆集《讀書與跌宕自喜》。詩文遺著《馬雁詩集》與《馬雁散文集》在2012年由友人整理出版。生前編纂友人詩合集《幾個好朋友》於2017年出版。曾獲珠江詩歌節青年詩人奬、劉麗安詩歌奬。2010年4—9月為北京上苑藝術館駐館詩人。
詩人、書評家張定浩如此評價馬雁:「在她的詩歌中,我們會漸漸意識到自己正在遭遇一個罕見的誠實的聲音。在充斥智力遊戲、視覺玩賞和意見訴求的當代詩歌氛圍中,她自覺努力地回到某種『前現代寫作』中,試圖在詩歌中『維護真,保留美,達到善』。」
馬雁曾寫下:「怎樣才能把自己集中成一束猛烈的光,照亮它命中注定將要照亮的那一塊地方?」
馬雁已經成為那束光。