Darkening Mirror—New & Selected Poems by Wang Jiaxin
Edited and translated by Diana Shi & George O'Connell
Published by Tebot Bach ISBN 978-1-939678-22-5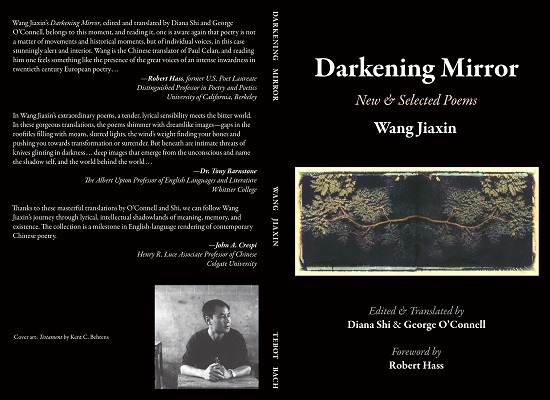 Contents
Table of Contents
Foreword: Robert Hass —1
Introduction: George O'Connell —15
Reversal (1985–1991)
Étude —20
Scorpion —21
Landscape —22
Meeting Rain, Wutai Mountain —23
Empty Canyon —24
The Knife —25
Autumn —26
What Place —27
A Man Splitting Wood for Winter —28
Train Station —29
Stairs —30
Brightness —31
Transformation —32
Varykino Ballad —33
Reversal —36
Darkening Mirror (1992–2003)
Another Landscape —40
Diary —43
London Notes —44
Prague —49
Traveler —50
Forty-Second Summer —51
Eugene, Snow —52
Taking My Son to the Shore —53
The Death of Brodsky —55
Mr. Nabokov —56
Glenn Gould —57
Spring Festival, 1998 —59
August 17th, Rain —62
Frostbite, December 7th —64
Winter Poems —65
Early Youth —69
Cuckoo —76
Notes from the Castle of Solitude —77
Darkening Mirror —82
Tangerines (2004–2008)
Pastoral —86
Tang Xuan Zang in Qiu Ci, 628 AD —87
Under Ayilanishi Snow Mountain —89
The Last Days of Octavio Paz —90
Limitations —91
Simple Autobiography —92
Evening Scene —93
Returning to Shang Yuan Village from Downtown —94
Tangerines —95
Night Train —96
Legend —97
Old Age —98
The Art of Poetry —99
Answering the Dutch Poet Pfeijffer's "Obscure Poems
Are After All Better Than Those Easy to Read" —100
For Emily Dickinson: A Late Dedication —102
In Upstate New York —103
A Beer with My Son —104
First Snow —105
Mourning a Friend —106
Grapefruit —107
Notes Out of Season (2009–2014)
Gotland's Dusk —110
Tarkovsky's Tree —111
Tomas Tranströmer —112
Kumbum Monastery —114
Rewriting an Old Poem —115
Written New Year's Day —116
Ice Fishing —117
Names of Places —118
Coarse Sand, Fine Sand —119
Island Climate —120
Outer Lingding Island —121
Fishmouth Peninsula —122
Notes Out of Season —124
Oysters —125
Memories of the Future —126
Dawn —127
Biographical Notes —128
Sample Poems
PASTORAL

On the country roads outside Beijing
you're sure to spot sheep
scattered over fields, like unmelted snow
or swollen blooms burst open.
They cross the road in clumps,
the herdsman barking them down
a weedy ditch, tripping and tumbling
through the dust.
I never paid much attention
until one afternoon
in flurries of snow
I nosed close behind a sheep truck,
the dark eyes gazing down
gentle and quiet, not knowing
where they were headed.
They turned toward me then,
curious as children.
I let the car drift back
through the thickening curtain of snow
and watched them disappear.
TRANSFORMATION

Seasons change overnight,
before you know it
the wind against your face so cold
you turn back in the yard,
the buffeting sky
impossibly blue.
Suddenly you're old,
withered, utterly changed,
shuffling through a swirl of fallen leaves.
After the night's storm
the cask of the heart, half empty,
sloshes at each step.
Yet wind thrills through the season,
tearing at the clouds,
the sky lofting higher, vaster,
always carrying something off,
the smallest chink in the rooftiles
filling with moans, voicing what was still,
urgent, blowing.
Few days left.
The dead leaves whirl,
in the distance
parched whispers of the trees,
the murmuring human surf, traffic
heading in one direction.
The wind's weight
finds your bones,
in a single night
changing everything,
snatching up your heart.
Hold on tight.
It's time to stand in the wind
or surrender.
TANGERINES

All winter he eats tangerines,
sometimes at the table,
sometimes on a bus.
Sometimes, as he's eating,
snow falls inside the bookcase.
Sometimes instead of eating,
he simply peels, slowly,
as if something lives within.
So he eats tangerines all winter,
and while eating recalls a novel
in which the heroine also brought to the table
a dish of tangerines. One kept rolling
till the end of the story.
But he can't name the author.
He simply eats the tangerine in silence.
The peels on his windowsill rise higher.
At last an image comes, several tangerines,
in childhood, placed near his hospital bed.
His mother had found them somewhere.
Though his little brother begged one, mother refused.
Still, he shared, but neither
would eat the last tangerine,
which stayed on the night stand.
Who knows what became of it?
So he eats tangerines all winter,
especially on snowy days, gray days.
He eats slowly, as if
there's plenty of time,
as if he's devouring darkness.
He eats, peels, and when he lifts his head,
snow glitters at the window.
FIRST SNOW

Whatever joy the first snow brought
has long subsided. Falling without end
across upstate New York,
beyond the window
snow mantles snow,
white fact cancels white fact.
Your days fill with snow.
For one unaccustomed to boots,
just stepping outside is trouble.
My wife and son head off for their sweet nap,
his bike,"Red Rock-It",
propped at the stoop,
half-buried.
The washer thrums and spins,
the apples on the table at peace,
the English-Chinese dictionary at peace.
My steps
measuring the stillness
more silent.
A glance toward the snowy hills, distant, veiled.
MOURNING A FRIEND

What debts your death erased, I'll pay.
Snow falling through a winter afternoon
and the wild chrysanthemums of home
will look after what love you recovered.
In a single moment, your smile
has set into a cipher.
The overland bus from Manhattan to Hamilton
keeps its usual pace,
but writing
even half a line of elegy
escapes me.
Down the frozen December road
of this far country
my suitcase
tugs and rumbles.
OYSTERS

Party's over. On the seaside table
a few oysters left,
large, unopened.
Heading back in the car, someone says
the ones you can't open
taste best.
No one laughs
or likely considers what it means.
At night the surf sounds heavy.
Through dark pine woods
our car weaves onward.
Foreword
Foreword: Wang Jiaxin and Winter's Disposition
Robert Hass
It is always an excitement, the discovery of a new poet. So the discovery of a new world of poetry is a fascination. I think American readers are only beginning to absorb, as translations appear, the explosion of new poetry in China during the last few decades. It began with the translations of Bei Dao published by New Directions in the wake of events in Tiananmen Square that crushed a student democracy movement in the People's Republic of China. Bei Dao's The August Sleepwalker appeared in 1990, Old Snow in 1991, and American readers began to hear of a new generation of Chinese poets, writing personal and experimental poems in the face of a rigid government censorship. Bei Dao and several other poets of his generation went into exile after Tiananmen, and in Europe and the United States anthologies of the new poetry began to appear, beginning with Tony Barnstone's Out of the Howling Storm: The New Chinese Poetry in 1993 and Wang Ping's New Generation: Poems from China Today in 1999. By 1999 a younger group of Chinese poets had begun to read Bei Dao and Duo Duo and the other poets associated with the new poetry, and they had begun to publish at a moment when, it seemed, censorship had moderated, as explosive economic development opened for poetry a breathing space of relatively benign neglect, alternating, it seemed, with new forms of censorship.
Anthologies in English began to track this new poetry. Zhang Er and Chen Dongdong published Another Kind of Nation: An Anthology of Contemporary Chinese Poetry in 2007, and it was followed by Wang Qingping's Push Open the Window: Contemporary Poetry from China in 2011. From Great Britain, W.N. Herbert and Yang Lian's Jade Ladder: Contemporary Chinese Poetry in 2012, and in the U.S., Ming Di's New Cathay: Contemporary Chinese Poetry in 2013. And in the last several years individual volumes have begun to appear of some of the new generation poets: Yu Jian, Xi Chuan, Zhai Yongming, Ouyang Jianghe, and Lan Lan. Very different poets with very different voices, sometimes tangling with each other over matters of aesthetics, whether poetry should be written in the vernacular or in traditional literary language, whether it should face toward European and North and South American avant-gardes or toward the language of daily life in China. An anthology by Arthur Sze, Chinese Writers on Writing, published by the remarkable Trinity University Press, tracks these debates. So it begins to be possible as the People's Republic of China surges onto the world's stage in the wake of an economic transformation and in the midst of fundamental questions about human rights and censorship in journalism and the arts to know something of what is going on with the writers in China.
Wang Jiaxin's Darkening Mirror, edited and translated by Diana Shi and George O'Connell, belongs to this moment, and reading it, one is aware again that poetry is not a matter of movements and historical moments, but of individual voices, in his case a voice stunningly alert and interior. Wang is the Chinese translator of Paul Celan, and reading him one feels something like the presence of the great voices of an intense inwardness in twentieth century European poetry—Paul Celan, and also Boris Pasternak and Osip Mandelstam, and in a later generation Tomas Tranströmer and Zbigniew Herbert, poets with a strong awareness of circumambient public violence who sought to make a space of private freedom in the poem word by word. One gets a sense of the way these tutelary voices work in Wang Jiaxin's work by turning immediately to the question Western readers are apt to ask: What sort of poem was he writing in the early 1990's in the wake of Tiananmen? The answer must be his remarkable "Varykino Ballad." In that dark time he thought of Zhivago:
A candle is burning,
the writer writes in winter.
All of Russia's exhausted,
and once more the breath of the snowstorm
stops beneath his pen.
Night, silence,
anyone awake would be astonished
at the beauty of this wretched world,
its momentary peace,
perhaps you're lucky—
fate took everything
but one pine table,
more than enough
for a poet of these times,
aside from life's own weight,
the wife asleep, the sadness
of the peaceful winter night.
Write as Pushkin wrote
in gold, turning pain to music.
The candle is burning
on the pine table,
then the rustle of the pen
goes still—something
comes across the snowfield,
What comes is the sound of the voices of wolves and the rest of the poem is a meditation on how and why they need to be heard in the poem. How the Chinese language, Chinese grammar, Chinese syntax get translated into English is a great mystery. It's one that Ezra Pound set out to solve in his translations of Li Bai in 1910 or so, and that sound, that lapidary clarity, has become part of the idiom of poetry in English, so the idiom of this poem in English translation feels familiar. One can almost watch the translators at work. First line: character for candle, character for burning; second line: characters for writer, writes, winter. Reading it that way, one feels the pulse of the poem, the scrupulous attention of the translator-poets, as they mime the pulse and attention of the poet to the inwardness of the movement of thought and sensation figured by the candle light and the pine table and the huge dark outside.
*
Wang Jiaxin was born in Danjiangkou, in Hubei province, west Central China, in 1957, eight years after the formation of the Peoples' Republic. How to locate him and the China he grew up in? His early years would have been the time of Mao's "Great Leap Forward", a huge effort to modernize and collectivize the Chinese economy which, coupled with drought, led to catastrophic social chaos and suffering. Between 1959 and 1962, an estimated twenty million people died of starvation and diseases associated with it. The Cultural Revolution was launched in 1966 when Wang was nine or so and lasted in various manifestations until Mao's death in 1976. In 1968 tens of thousands of people, especially those perceived to be demonstrating bourgeois tendencies, were sent to the countryside for re-education. I gather that Wang's family belonged to the social class that would have been a Red Guard target. And it would seem poets particularly came under attack. Here (from Wikipedia!) is a brief account of the experience of Ai Qing, the foremost poet of the Mao generation:
However in 1957, during the Anti-Rightist Movement, he defended the novelist Ding Ling, was accused of "rightism", and in 1958 exiled to farms in northeast China and then in 1959 transferred to Xinjiang by the Communist authorities. During the period of the Cultural Revolution, he was forced to work daily cleaning the communal toilets for his village of about 200 people, a physically demanding job he was required to carry out for fifteen years, then aged in his 60s. According to an account by his son the artist Ai Weiwei, he lost vision in one of his eyes due to lack of nutrition. He was not allowed to publish his works Return Song (《归来的歌》) and Ode to Light (《光的赞歌》) until he was reinstated in 1979. That same year, he became vice-chairman of the Chinese Writers Association.
(I met Ai Qing in Berkeley, in 1989, a handsome, shambling, white-haired bear of a man, and the version of the story I heard from his friends was that a gang of Red Guard teens had beaten him and gouged out his eye.)
A brief biographical note about Wang Jiaxin reads: "He was sent down to a farm during the Cultural Revolution, entering Wuhan University when it was over." He would have been between ten and nineteen during those years. Wuhan University is located in Hubei, the province where he grew up. It has been described as one of the ten best universities in China and one of the most beautiful. If Wang entered the university around 1978, when he was twenty, he would have come to that place after a childhood and youth set against a backdrop of considerable social dislocation. If he graduated in 1982, he would have been twenty-four. The literary event of those years was the appearance in 1978 of the underground poetry journal, Jintian (Today), edited by Bei Dao. The magazine, which became the organ of the new poetry, had a two year run. It was banned by the authorities in 1980. Wang Jiaxin published a first pamphlet of poems in 1984, when he was 27. Another collection appeared in 1985 and one more in 1989. From 1985 to 1990 he edited Shikan, a poetry monthly, an immensely influential national magazine. These would have been years of enormous hope among writers and intellectuals, cut short at Tiananmen Square in June 1989.
This history provides a lens through which to read a later poem, "Pastoral":
On the country roads outside Beijing
you're sure to spot sheep
scattered over fields, like unmelted snow
or swollen blooms burst open.
They cross the road in clumps,
the herdsman barking them down
a weedy ditch, tripping and tumbling
through the dust.
I never paid much attention
until one afternoon
in flurries of snow
I nosed close behind a sheep truck,
the dark eyes gazing down
gentle and quiet, not knowing
where they were headed.
They turned toward me then,
curious as children.
I let the car drift back
through the thickening curtain of snow
and watched them disappear.
*
In an essay entitled "Chinese as a Language in a Neighborhood," Xi Chuan, one of Wang Jiaxin's contemporaries,
remarks that contemporary Chinese poetry necessarily faces in two directions, toward the classical past, especially the great poets of the Tang and Sung, and toward the Western poetry of the last two centuries. The centripetal pull of the Chinese tradition has been enormous down through the centuries, so much so, Xi Chuan argues in his immensely informative essay, that Chinese poets never felt themselves to live in a neighborhood. The break came with the May Fourth Movement of 1919 when poets and novelists began, in an aesthetic move that was necessarily entangled as well with the story of European colonialism, to read and find new possibilities in Western writers. That opening seems to have been largely stilled by the turmoil of the middle years of the century. Ai Qing visited Russia and read Mayakovsky, but the poetry of those years, including the classical style poems of Mao Tse Tung, seemed to belong to a world very much turned in on itself and toward its past. The agent of change has been translation. And some of what makes these two new generations of Chinese poets so arresting must have to do with the way they have been given the convergence of these two powerful streams to swim in.
So it should not be surprising that among the earliest poems in Darkening Mirror are one called "Étude" and another called "Meeting Rain, Wutai Mountain," the one announcing a relationship to Europe, the other sounding like the title of a poem by Li Bai or Du Fu. "Étude," the first poem in the book, is a young man's poem. It must date from about 1986, when Wang Jiaxin would have been in his mid- to late- twenties. One could make a lot of the term. It came into use in the nineteenth century and was associated with Chopin and Debussy, so we are in the territory of early European modernism and symbolist poetics. And the word referred to practice pieces for piano designed to work through some technical difficulty. So the title gives us three things with which to read the poem: it faces toward European literature, it is a young poet's practice piece, and it is working out a problem. But it does much more than that:
All night, the rain,
gusts of it sweeping the doorway,
drifting, returning.
If I switch the light off,
the rain will walk in, dripping.
This is a setting of the theme, the playing of the first few notes. The metaphor is what I mean by his inwardness. It's in the mind that the storm would come indoors when the light is turned off. The next lines repeat and vary the theme:
All night I toss sleepless.
If I sleep, another
walks the streets
wrapped in an old raincoat.
He walks, pauses, pacing up and down.
His heavy footsteps part the rain.
This seems very surprising and not like my experience of Chinese poetry, this opening onto the doppelgänger theme, the doubleness of day life and dream life, of the writer self and the walking-around self. The third stanza restates the theme and intensifies the storm:
All night the rain pours down, loud, unstoppable.
In the street, now separating, now merging,
sluicing all night through the sewer grate.
Through sheets of rain, slurred lights.
(Notice the remarkable sensitivity of the translation: "sluicing" is terrific, so is "slurred." The work of Diana Shi and George O'Connell is certainly part of the story of the force of Darkening Mirror. They co-direct Pangolin House, an international journal of Chinese and English-language poetry: pangolinhouse.com.)
I'll leave to readers the haunting and paradoxical final stanza of "Étude," and notice that another of the early poems in the book is entitled "Meeting Rain, Wutai Mountain" which sounds, to an English reader's ear, like the title of a Tang dynasty poem, and probably to a Chinese reader's as well. Wutai Mountain is one of the four sacred sites of Chinese Buddhism, and there are temples on the mountain dating to the Tang. And, of course, visits to sacred sites are a classic theme of Tang poetry. So it seems that Wang Jiaxin wants his readers to pay attention to his facing two ways. And reading the poem in English translation an English reader is probably also facing two ways, toward the excitement of what is stirring now in Chinese poetry and toward the idiom the modernist generation made out of the translation of classical poetry. Ezra Pound was fascinated by the way the Chinese text seemed to lay out the world in a set of distinct ideogrammic nouns and verbs: "The jeweled steps are already quite white with dew," begins his version of Li Bai's "The Jeweled Stairs' Lament." Pound was trying to wriggle his way out of what he thought of as symbolist subjectivity and what he experienced as the world as given in Chinese poetry seemed a model. And, in fact, the opening stanza of "Meeting Rain" sounds like a classical poem:
After five hundred li of dusty road,
we drove through a red canyon
as thunder boomed over the mountain,
rain right on our heels.
(One would like to know what Chinese idiom "right on our heels" translates; it gives the rain such active force and creates a sense of the speaker being pursued there by some force.) And so does the poem's final stanza, though it is a six line stanza rather than the classical four of the first stanza:
Awake. Last night's fruit pits tossed out the window
already beaten into muddy earth.
Rain clears, the day's trees,
the rocks, the temple shining.
Then morning's windchime,
and across the mountain slope,
a drift of chanted sutras.
The fascination of the poem for me is the middle stanza between the night of arrival and the morning. It is where the
poem stakes out the place for subjectivity, for an inward response. Here it is a mix of physical sensation, memory and dream:
Mist rose,
the mountaintop temple veiled in the shower.
It came so indulgently, luxuriously,
my teeth chattered.
I recall my parched thirst on the way,
and later, the strange wooden fish in the monk's hand,
in my dreams a rush
of streaming water.
The wooden fish—木鱼 (mu yu)—is a round, wooden percussive hand instrument, used for keeping time in the chanting of sutras. Here it appears, unmoored from its signification, between a memory of thirst, teeth chattering at a luxury of rain, and a dream of streaming water. The image takes its meaning by the end of the poem from association with the music of the windchimes and the sound of chanting across the mountain slope, as the visual image joins the aural ones to make, strangely or not, the music of an inner world.
*
It's hard to locate exactly the valence of subjectivity in the new Chinese poetry. One of the things it seems to be is Zhivago's writing desk in the depth of winter, the place where consciousness in quiet and isolation can touch the live current of itself. It is very interesting to me that Wang Jiaxin, after he had written these early poems, put himself to school to Paul Celan and the Northern and Eastern European poets. Herbert, Milosz, Tranströmer, all in different ways, were carving out a private space that was also a civic space outside the collective, a move that must have had a quite different meaning in Sweden than in Poland. It would seem that the scandal of the "Misty Poets" was to write a subjective poetry in the face of a demand for a poetry that served the collective, public space. For Tranströmer that space is often figured as the place where one senses the seams of a lived life, the drive in the evening from work to home when one has taken off one social face and not yet put on another, or as music, listening to it or playing it as the location of a blessed fluency and freedom. In Herbert it is figured as the inside of one's own head as a fortress, the one place the collective can't compel. In Celan because of his specific historical situation, a Romanian Jew writing in German during and after a pogrom launched in the German language that killed six million people including his parents, subjectivity has to be wrested from language itself which is the collective. Language was where Tranströmer and Herbert could go to escape the habitual routines of life in democratic Sweden or from ideology in the People's Republic of Poland. In Celan space for the poem had to be wrested from a language that had been for his family a place of beauty and aspiration and had become a kind of murderous echo chamber. One would love to see a study of how this plays out in a Paul Celan in Mandarin as rendered by a poet with Wang Jiaxin's gifts. In the United States Paul Celan has become in this generation of poets a kind of hero, much translated, because his wrestling with language seemed like a model to a generation raised on critical theory and impatient with the narcissism of American popular culture. American poets have gone to Celan for a fractious relation to language, for resistance to a transparent first person and an easily assumed identity between word and thing. In Mandarin, I suspect, his example must be nearer to the work of the Misty Poets, of Bei Dao and Yang Lian, and have its place, for young Chinese readers, in the debate between classical and modern forms, elitist and populist vocabularies, debates really about how to feel and see in the world they're growing up in.
*
As if to address that question, another of the early poems is called "What Place". Like "Étude" and "Meeting Rain, Wutai Mountain", it takes its cue from weather.
The valley still deep in snow, bare boulders peeking through.
Where we walked last year
azalea blooms.
He makes a paysage moralisé of a mountain landscape in the moment between winter and spring. The phrase that caught my attention in this poem is in the third stanza:
Life's a stretch of mountain slope,
one side flooding with sun,
but now we walk the valley
in winter's disposition,
"in winter's disposition" catches something essential about the quality of sensibility in these poems. They seem to belong to a vision of the world stripped bare, to the voice that emerges from winter clarities. The phrase also caught for me the crispness and brilliance of these translations. I don't know what the Mandarin is for "disposition." It is perfect in English because "disposition" means "the temperament or mood of a person", first of all, and then in a legal sense "the status of things" and in a military sense "the way in which forces are arrayed". These poems very often walk in winter's disposition, sunlight on the opposite slope. This poem ends with the sense of place mysterious and in motion:
we walk the valley,
not knowing when it began
nor where it will end.
There are many more things to notice about these poems and what is in them. One is Wang's gift for aphorism in poem sequences like "Reversal" and "Another Landscape" and "Winter Poems", work that seems very striking and very fresh and very much his own. Another is the interest of these poems engaged with European and American aesthetics and with his travels in Europe and America, the takes on Tranströmer and Nabokov, the elegies for Joseph Brodsky and Octavio Paz, glimpses of Oregon and London, Berlin and Gotland. And there are the fairly rare autobiographical poems like "Early Youth" which give us a glimpse of what a childhood was like in the years of the Cultural Revolution. And reading Darkening Mirror there is the sense—as there is in the other Chinese poets of his generation now being translated, of being given a new pair of eyes, of being given ways to see that are at once familiar and not, idioms and strategies of the work of poetry made new in a new context. And there is the fascination of watching a poet's development. The earliest of these poems were written in 1985, and the last are quite recent. It's thirty years of work and the map of a journey, the poet's journey that Wang, who also edited a volume of Yeats's poems in Chinese, has clearly given some thought to.
I met Wang Jiaxin in Beijing at an occasion for Chinese and American and European poets to gather in small numbers and talk about poetry. When poets get together on those occasions, one of the conversations is always who are you reading, what is poetry in your world trying to do. Everyone in this conversation seemed ravenous for that kind of talk, Wang Jiaxin particularly so. During those days I began to read the few available translations of his poems, curious about China, curious about him, and felt immediately their chilled urgencies, interest in the unsayable, the perhaps fatalistic intelligence in them. This was a man who would write (in English translation) "It's not that you feel chilled, but winter owns you. Her icy arms take you in, like a child held tight to her bosom." I met him again in Berkeley. These translations had begun to appear in American journals and anthologies and he and several American poets read some of the aphorism poems on a sunny fall day to a crowd, mostly of young university students, sprawled on a park lawn near a farmer's market on a Saturday. He read in Mandarin and English. The other poets read in English. An environmental poetry festival. Indian summer in California.
TESTIMONY
When I want to speak to you of truth, I find I must use
another language.
CAT
Someone's cat is white, but after entering your poem it turns
dark blue: because one winter night you gazed into its eyes.
ENTRANCE
Returning home, mount the stairs slowly, open the door to
your room. A ritual: sit down, cast your shadow on the wall,
do nothing but listen.
FINALE
Write winter to its last day. Time splinters: from the space
between words, smoky mist ascends, boundless, indistinct.
The audience seemed rapt, and why would they not be? On our next meeting Wang Jiaxin took me to a bookstore in Nanjing, Librairie Avant Garde. It's in the middle of the city and it's underground, a bomb shelter and a government parking lot converted into what is said to be the largest bookstore in China, about an acre of counters loaded with books, magazines, newspapers. There were tables and chairs for readings, tea shops and alcove cafes. One walks in down a ramp. From the ceiling at the entrance hung banners, large photographs of Chinese and world writers, mostly American and European, García Márquez and Milosz and Susan Sontag and Simone de Beauvoir, writers the curious young are reading all over the world. The store on a drizzly Saturday afternoon was crowded with young people, browsing and reading at tables. Lots of potted plants, ferns and ficuses, bonzaied maples. There were hundreds of people in the store. It looked like an American department store in the holidays, like the big American bookstores, Borders and Barnes & Noble and the famous independents, before the internet. It is part of Wang's style not to comment, to let the scene speak for itself. Huge piles of French philosophers, huge piles of Latin American fiction. Of course, most of the tables were piled with titles I couldn't read, but I could see that what I had been told, that the Chinese, especially the Chinese young, were ferocious readers was true. That there is still a struggle for basic human rights in China is clear enough. I asked a Chinese publisher how much censorship he experienced and he said, worldly man, "Not much because we censor ourselves." There are subjects that still can't be broached, especially by journalists, and boundaries which artists and writers bounce against, and which some of them test, as the ground shifts in the midst of an enormous economic boom and expansion of higher education. And there was also this. Wang watched my amazement pokerfaced, and then lifted his eyebrows a little, as if to say—this art we've spent our lives practicing? Well, here it is, a bomb shelter turned into an underground garden where the young are finding themselves, or getting glimpses of their possibilities, of other worlds, other selves and ways of being, in the labor gathered into books. The next day in the beautiful city of Hangzhou at a wishing well for tourists he tossed in a coin, and shrugged, and said to our unspoken question, "The next poem." Meanwhile, Darkening Mirror will give English language readers a chance to catch up.
Introduction
Introduction: From the Castle of Solitude
George O'Connell
Like many poets of his generation now middle-aged, Wang Jiaxin was "sent down" to labor in the countryside during
China's ten year Cultural Revolution. From an educated family classed as "landlords", he fell into a socially and politically disfavored category, which isolation, he says, turned him toward the solace of reading. Once the worst of the Cultural Revolution's excesses had passed, and higher education slowly resumed, he managed to attend Wuhan University, where he studied Chinese literature. Later, he taught in Beijing and edited the influential Poetry Monthly.
Following Tiananmen in 1989, Wang left China for two years of self-imposed exile, mostly in London. No matter where one lives, he believes, poets remain alone with the word, always outsiders, even in their own countries. Subsequent travels took him to Ghent, Prague, Sweden, and elsewhere in Europe. While Poet-in-Residence at Stuttgart's Schloss Solitude, he composed his longer work "Notes from the Castle of Solitude". As he maintained his independence from contending literary movements through the 80s and early 90s, his work grew more celebrated, and by the new century he had become one of China's most esteemed living poets. He is also among its most cosmopolitan. In addition to his other travels, he has served as Luce Poet-in-Residence at Colgate University, and 2013 participant in the University of Iowa's International Writing Program. Though Darkening Mirror is Wang's first full-length volume in English, he is the author of many poetry and essay collections in China, plus numerous anthologies and translations, and his work has been rendered into multiple languages, including Greek and Croatian. A German selection of his poems, Dämmerung auf Gotland, translated by Wolfgang Kubin, appeared in 2011. Wang is currently Prof. of Literature at Beijing's Renmin University.
Wang affirms that his earliest and deepest wellsprings are the classical Chinese philosophers and poets, particularly Du Fu. His contact with western literature came initially through available Chinese translations of Dante, Yeats, Rilke, Dickinson, Pasternak, Milosz, Brodsky, Akhmatova, and Tsvetaeva. Later he encountered Char, Celan, Lowell, Heaney, and others. Though it may be wiser to listen for affinities and shared sensibilities than pursue the drifts and figments of influence on this or any poet, Wang reminds us that "our literary gods are always in our gaze". It seems only natural his artistic temperament would be drawn to the timbres of Rilke, and also to Paul Celan, a volume of whose poems and essays he has translated into Chinese, along with another of Celan's correspondence. Like Celan, Wang inclines toward erasures, cruel beauties, and those transfiguring moments when life's starkness is laid clear. For many readers, Celan's work grew increasingly encoded and hermetic, what he described as "undissembled ambiguity". Wang Jiaxin's poetry, however, at least to its present incarnation, has remained accessible, still deeply in touch with the things of this world—their scent, color, and texture, their exquisite and unexpected pressure on the heart. As with the best Chinese classical poets, he finds his subjects and inspirations in the ordinary and near at hand. His youngest son's red bicycle, for instance, in upstate New York, drifting over with foreign snow. The scent of grapefruit, or the peels of a tangerine, summon contexts the poet weighs for resonance and meaning. In animating the concrete details of our lives—succinct or ambiguous, rueful or transcendent—his work recovers vestiges of the sacred in a spiritually vitiated landscape. Though this prospect is invariably offset by less pleasant realities, including the erosions of time, the poet nonetheless perseveres: "Restoring faith in life", he says in one poem, "is like stamping your feet in winter; warmth returns, then you stride off further in the snow." In another poem, lurid urbanity collides with private exceptionalism: "The Age advances, and at dusk more girls appear, with tinted hair, beckoning from the roadside. Why not pull over? What have you left to be proud of ? Do you really think your noble soul, compared to one of their combs, is more enduring?" Elsewhere, the deficiency of language amid harrowing historical events is brusquely summarized: "How can we write / when words won't bear things' weight?"
Wang Jiaxin's aesthetic, however wistful or lyrically graced, is accordingly tempered by the icy edges of the world. Memory in these poems may offer a fragrance to savor, or the acrid tincture of loss, but is never saccharine nostalgia. What's recalled haunts more than it rescues, and its narrations, momentarily tender, are nearly always interrogated for their barbed or equivocal truths. "The goddess of memory", Wang says, "will never grant you peace."
Numerous poems in this collection also allude to a kind of parallel or sometimes contrapuntal doppelgänger. No casual or offhand persona, this is a manifold "other", a shadow who is and is not the speaker. It may loom like a lost former self, foreboding as heavy footfalls on the stairs outside one's door. Riven by seasons, it dwells where shifts in weather resemble shifts in politics, suddenly exposing anyone to wind and rain, to killing cold. It may even embody phases of poetic imagination: "You need to keep moving. Through continual astonishments, you arrive at yourself." Or, as in a later poem, "I'm letting the poem write me. / …Through its words, I take on a new face, new eyes." To the extent each reflects profoundly uncertain identity, these "others" register a truly modern and universal unease, as well as a primary affliction of exile. Given Wang Jiaxin's cosmopolitanism, such exile may be not only geographic but cultural and psychological. It likely includes that detachment when the routine self, for all its obscurities, steps aside during composition, watching and listening as it beholds the words of the poem advance almost impersonally toward the page. We sense too in Wang Jiaxin's work a pressure and momentum, as in the ending of one poem, set during an arduous Tang dynasty journey: "a figure stands before me, / trudging as I trudge, / pressing on when I halt / …If he stops, the sliding dunes will swallow him."
The poet/translator Kenneth Rexroth famously observed that poetry is "the exaltation of being". Wang Jiaxin's art not only exalts but assays, seeking to refine from time and the recesses of the spirit that hard won, fragmentary ore: the whole truth of living. If Yves Bonnefoy, speaking of Celan, declared "his words cannot recover his experience", for Wang the task of poetry is not to flinch from this dilemma, but to face it. While evoking the physicality and emotion of a remembered scene, irretrievability becomes its own allied subject, the poet tenacious in revealing how it both frames and exacerbates recall. In one short poem about meeting a grown, long distanced son in New England, we watch foam slip down an empty beer glass. Knowing the futility and falsity of trying to reclaim lost years through explanation, the poet wisely lets the image alone convey everything unsaid.
Wang's more remote past, notwithstanding the bittersweet innocence of remembered youth, is also a plain of darkness, where childhood met barbarity in a brutal coming of age, where unforgettable lessons in the human capacity for cruelty and betrayal seared the hearts of its witnesses. Such scars never fully heal, but repeat their cries, their stunned invocations.
The present, Wang says, is "a present in which we are absent". Yet it is precisely the knowing poignance of his gaze, even as it touches the breathing moment, that strikes to the core of our shared existence. In that long-held present, a presence often of absence, his is a voice that lingers. By the dark hearth where once a fire burned, where the steaming log once whistled back its birds, the poet stands and speaks of what he hears.
Comments
Wang Jiaxin's Darkening Mirror, edited and translated by Diana Shi and George O'Connell, belongs to this moment, and reading it, one is aware again that poetry is not a matter of movements and historical moments, but of individual voices, in this case stunningly alert and interior. Wang is the Chinese translator of Paul Celan, and reading him one feels something like the presence of the great voices of an intense inwardness in twentieth century European poetry…
—Robert Hass, former U.S. Poet Laureate, Distinguished Professor in Poetry and Poetics, University of California, Berkeley
In Wang Jiaxin's extraordinary poems, a tender, lyrical sensibility meets the bitter world. In these gorgeous translations, the poems shimmer with dreamlike images—gaps in the rooftiles filling with moans, slurred lights, the wind's weight finding your bones and pushing you towards transformation or surrender. But beneath are intimate threats of knives glinting in darkness…deep images that emerge from the unconscious and name the shadow self, and the world behind the world…
—Dr. Tony Barnstone, The Albert Upton Professor of English Languages and Literature, Whittier College
Thanks to these masterful translations by O'Connell and Shi, we can follow Wang Jiaxin's journey through lyrical, intellectual shadowlands of meaning, memory, and existence. The collection is a milestone in English-language rendering of contemporary Chinese poetry.
—John A. Crespi, Henry R. Luce Associate Professor of Chinese, Colgate University
Buy the Book
To view or purchase from Tebot Bach.
To view or purchase from Amazon.