渡·香港當代詩人十家 | Crossing the Harbour: Ten Contemporary Hong Kong Poets
喬治·歐康奈爾 史春波 編譯
Editors & Translators: Diana Shi & George O'Connell
Published by Pangolin House
ISBN 978-988-78120-0-5
Contents/目錄
目錄 Contents
xiv Foreword: George O'Connell
曹疏影 Cao Shuying
2 詩人小傳/About the Poet
3 我常在清晨閱讀……
4 I Often Read, Early Mornings
5 Aurore
6 Aurore
7 旅程
8 A Journey
9 羅馬的七個瞬間(之一)
10 from Seven Moments in Rome
13 加泰隆尼亞耶穌像
14 Jesus in Catalonia
15 你我同時行走於山崗的兩面
16 You and I Walk Opposite Slopes of a Hill
17 紫霧
18 Purple Fog
19 花園故事
20 Story in a Garden
21 忠實
22 Faithfulness
23 粉蝶
24 Pink Butterflies
陳滅(陳智德) Chan Chi-tak
26 詩人小傳/About the Poet
27 遠去的救護車
28 Ambulance
29 夜渡
30 Night Ferry
33 兩幅圖畫(選自《巴托克組曲》)
34 Two Pictures (from "The Bartók Suite")
35 木偶王子(選自《巴托克組曲》)
36 The Wooden Prince (from "The Bartók Suite")
37 弦樂四重奏(選自《巴托克組曲》)
38 String Quartet (from "The Bartók Suite")
39 泡沫照像
40 Bubbles
41 餘燼
42 Embers
43 灣仔老街
44 Old Street, Wan Chai
45 亂雲
46 Unsettled Clouds
49 白影
50 White Shadow
鍾國強 Chung Kwok-keung (Derek Chung)
54 詩人小傳/About the Poet
55 非靜夜思
56 Thoughts on a Troubled Night
57 米
58 Rice
59 橘子
60 Tangerine
61 油
62 Oil
65 織草為蜢的人
66 The Weaver of Grasshoppers
67 馬纓丹
68 Lantana
69 電腦寫作
70 Writing on the Computer
71 葡萄
72 Grapes
73 聲音
74 Sound
77 船程
78 Voyage
79 分傘
80 Sharing an Umbrella
黃燦然 Huang Canran
82 詩人小傳/About the Poet
83 看
84 Looking
85 爐火
86 Hearth Fire
87 朝露
88 Morning Dew
89 得失
90 Balancing
91 炎陽
92 Broiling Sun
93 來生
94 Next Life
95 樹蔭起舞
96 Shadow Dance
97 陽光是偉大的
98 Sunlight
99 死神
100 Death
101 我們從哪裏來
102 We're From Where
103 認識
104 Knowledge
飲江(劉以正) Lau Yee-ching
106 詩人小傳/About the Poet
107 銅樣的安靜 看「亨利摩爾的藝術」 (節選)
108 from Serene as Bronze, Viewing Henry Moore
113 入夜 懷溫鍵騮
114 Twilight, Missing Wan Ken-lau
115 魔術師
116 Magician
117 邂逅
118 Encounter
119 飛蟻臨水
120 Flying Ants Drawn to Water
123 發現外殼
124 Finding a Shell
125 亡命表演
126 Circus Act
127 火腿向日葵
128 Sunflowers with Ham
131 咬著「棺材釘」的老頭
132 Old Man, Coffin Nail in His Teeth
133 戲水忘川
134 Splashing in the River of Oblivion
梁秉鈞(也斯) Leung Ping-kwan (Ya Si)
138 詩人小傳/About the Poet
139 灰白色拖把
140 The Gray Mop
141 遙望燈色璀燦
142 Gleaming Lights Far Off
143 在城市的後院
144 In the City's Backyard
145 白上加白
146 White on White
147 流浪的沙發
148 The Wanderers
149 中藥
150 Chinese Medicine
151 城市的窄巷
152 City Alley
153 冥鏹
154 Ghost Money
157 椅上的青色
158 On the Bench, Green
159 區區肥皂
160 Only Soap
161 路上的浪蕩者
162 On the Road, a Wanderer
165 電影城市
166 City of Films
廖偉棠 Liu Wai-tong
170 詩人小傳/About the Poet
171 有人在火焰裏捉迷藏
172 Hide and Seek Amid Flames
175 皇后碼頭歌謠
176 Ballad of Queen's Pier
177 我曾經接觸過幸福
178 I Once Touched Happiness
179 登封羈旅有作
180 Visitor in Dengfeng
181 蘇格蘭雨四章
182 Scotland's Rain
183 讀中唐史
184 Mid-Tang History
185 十四行
186 Sonnet
187 夜行獸
188 Night Walking Beast
189 讀廖亦武獄中詩集《古拉格情歌》
190 Reading Liao Yiwu's Gulag Ballads
191 孫悟空
192 Sun Wukong
杜家祁 Tu Chia-chi
196 詩人小傳/About the Poet
197 除夕
198 New Year's Eve
199 古籍研討會
200 Seminar on Ancient Books
203 空屋
204 Empty Room
205 私祭(95年秋聞張愛玲死訊後作)
206 Private Obituary
209 某詩歌研討會後
210 After a Poetry Seminar
211 摸索
212 Feeling the Way
215 千禧之夜
216 Millennium Night
219 攝影展
220 Photo Exhibition
221 春分
222 Vernal Equinox
225 關於禁慾
226 About Abstinence
王良和 Wong Leung-wo
228 詩人小傳/About the Poet
229 白鷺鷥
230 White Egret
231 里爾克墓前
232 At Rilke's Grave
233 女馬人
234 The Centauress
235 竹
236 Bamboo
237 食薯者
238 The Potato Eaters
241 蘭花
242 Orchids
243 狼狗
244 Wolfdog
245 蔬菜
246 Vegetable
247 荷蘭瓷風車音樂盒
248 Windmill on a Dutch Porcelain Music Box
249 子夜伏於窗邊
250 Midnight, Leaning at a Window
胡燕青 Wu Yin-ching
252 詩人小傳/About the Poet
253 悼亡
254 Mourning
255 白瓷花碗
256 White Porcelain Flower Bowl
257 微息
258 Fine Subtle Breathing
259 吃過晚飯
260 After Dinner
261 活結
262 Slipknot
263 我們又落入薄色的街
264 Again We Enter the Dim Street
267 一碗熱麵
268 A Bowl of Hot Noodles
269 對窗習字
270 Written by the Window
273 聚散
274 Meeting, Parting
275 夕航
276 Twilight Voyage
277 About the Translators/譯者小傳
Sample Poems/試讀
曹疏影 | Cao Shuying
我常在清晨閱讀……

我常在清晨閱讀探入人心的文本
因為有一整天的慾望等著我
它們張大口,站在睡眼惺忪的我面前
一邊把我還在留戀著的夢境像舊睡衣一樣褪去
剝去,哦那江流中的鮮百合
我在心之淵潭,刺入一根根輝煌的探針
通天入地,我攀援它們度過水內水外遊戲著的日影
光影窸窣,我纏嬉它於水與空氣的觸面
滑膩。水泡。眩光。我向上和向下望去
都是重重世界的深潭。一晃,又心清得只剩下影子
而夜晚,睡前,我通常在床上閱讀遊記
帶著對這個世界的極度渴望,帶著與它脫離的痛苦
欣然入夢,在它的蕊間無限沉落
度過許多個許多個傷口,我的雪橇犬在一粒冰裏
我的冰在氣喘吁吁的銀河間

I OFTEN READ, EARLY MORNINGS

I often read, early mornings, words to sound one's heart,
for the whole day's desires await me,
mouths wide open, posed before my bleary face
while I peel my dreams off reluctantly as an old nightgown.
Oh in that river stream fresh lilies.
Into the heart's deep pool I plunge the bright needles, one after another
joining heaven and earth. I cling to them,
drawing sun and shadow into the water and out,
the dappled light rustling, braiding liquid with air.
Creamy bubbles. Giddy light. Everywhere I look
deep wells of a layered world. A flash,
and again my heart clears to mere shadows.
In bed each night, I read travel books,
bearing my deep thirst for this world, bearing the pang of leaving it,
slipping agreeably asleep, tumbling forever through its pistils,
passing countless wounds. A frost grain's my sled dog,
a wheezing galaxy my ice.

陳滅
|
Chan Chi-tak
遠去的救護車

一陣喧亮的鳴響過後
救護車在前面遠去
密集的城市曾讓出一道裂縫
暫且為它靜默
如今不過是前方
一點逐漸細小的白色
還有隱約一橫紅線
是昔才符號鮮明的鳴響
不容猶疑的決心甚至
擁有全城最堅定的方向
持守它真實而凜然的使命
還會有誰呢沒有躑躅囁嚅
就只有它執意左旋右轉
眾目下越過界線
現在城市又像神蹟後的紅海
重新合攏,復淹沒眾多事物
真的遠去了,向著遙遠的世界
車廂內是另一神秘國度
縈繞童年不可知的想像
彷彿載著眾生的希望
連結車內持續心跳
那淌血或昏死的誰
勉力吞吐一絲微弱的呼吸

AMBULANCE

The long siren wailing,
the packed traffic
cleft in quick silence,
the ambulance already far ahead,
a white, shrinking spot beneath a ruby blur,
its cry the signature
of one will, unsparing truth
commanding a whole city.
Everything postpones, time stammering
as the ambulance insists
left, right, straight,
crossing the lines
kept by thousands.
Then, like the Red Sea, cars
flood the lane shut,
the ambulance vanishing toward a distant realm
bearing its cargo of mystery
all the way from childhood.
Hope maintains
its handshake with the steady heart—
hemorrhage or coma,
each breath in breathed out.

鍾國強
|
Chung Kwok-keung
非靜夜思
——給靖和

看著你卻不知如何閱讀你
呼吸的信息,時而平緩,時而
急喘,午夜窗外
船舶引擎在聒噪
人的聲響通過擴音器
不分晝夜,侵入
私人的空間
你側過頭來,眼微開
彷彿想起一些遙遠的事情……
隔著嬰床井然的木欄
我仍在閱讀你的呼吸
長或短句,無韻,並不鏗鏘
引擎在窗外
不斷擾亂我的思維
你偶然的咳嗽
彷彿質疑
夜的一切與必然
夜在窗外?
窗內呢?
我在船舶的浮泛中看著你
看到波浪中彷彿一點光芒

THOUGHTS ON A TROUBLED NIGHT
for Jinghe

Watching you, not knowing how to read
the syntax of your breath, now peaceful, now
quick, past midnight's window
a boat motor gnawing,
night or day these human sounds
a trespass on our private space.
You turn your head, eyes half open
as if reaching a far-off realm.
Through the bars of your crib
I keep measuring your breaths,
long or short, unrhymed, softly rhythmic.
The motor eats my thoughts.
Your cough seems to doubt
the dark's unstoppable totality.
If night's outside
what's in?
From the swaying boat I watch you.
Something glints amid the waves
"Thoughts on A Tranquil Night" is a widely known poem by Tang dynasty poet Li Bai.

黃燦然
|
Huang Canran
認識

最初我知道我該知道的,
後來我知道我早該知道的,
再後來我知道我知道的,
再後來我知道我早就知道的,
現在我體驗而不再知道。

KNOWLEDGE

At first I knew
what I should have known,
then what I should have known earlier.
Later on I knew what I knew,
then what I had known before.
Now I live unknowing.

飲江
|
Lau Yee-ching
咬著「棺材釘」的老頭

咬著「棺材釘」
孤獨的老頭孤獨地
守著一種
手工業
他將煙紙攤在掌心
他將煙絲搯在煙紙裏
他將手輕輕合上
輕輕合上輕輕地搓輕輕地捲
像捲動在古老歲月裏的
捲筒機
然後,他將煙捲
湊近舌尖
輕輕一舔讓全身
彌滿辛辣的煙味
他滿頭斑白
像一堆煙灰
他熬過長夜的眼睛
像灰燼裏
孤獨的火
咬著「棺材釘」
孤獨的老頭
劃亮一根一根
孤獨的火
他點燃自己
吸啜自己
又孤獨地
搓捲自己

OLD MAN, COFFIN NAIL IN HIS TEETH

Coffin nail in his teeth,
the solitary old man
keeps alive
this small handicraft,
flattening the paper in his palm,
sprinkling the dark threads of tobacco,
then closing, twisting, gently rolling
as if a well-worn machine
One lick of his tonguetip,
one light, and the whole body
fills with fragrant smoke,
his hair a gray heap of ash,
his eyes smoldering through the nights
uncompanioned flame,
embers
Coffin nail in his teeth,
the solitary man
strikes one match after another,
curling into himself,
sipping himself,
setting himself alight

梁秉鈞
|
Leung Ping-kwan
白上加白

白色裏沒有了其他顏色嗎?
你要追尋那白中之白
那純粹的,無人知道的
秘密?至清的水裏
沒有魚,凝結的冷空氣裏
如何可以找到糾纏不清的熱情?
白減去白,並不會變得更白
白加上白,白色可會
抹煞了另一種白色?
還是孵生了不同的天鵝和茉莉?
失眠的夜到了盡頭輾轉化成
黎明的魚肚白,老人走過的灰塵
轉成白髮,是柔軟的白雲舒展
宵來的露水結成晶瑩的霜雪了
白豆煑沸磨漿凝成新的生命
春天的光影在白石上嬉戲

WHITE ON WHITE

what colors hide in white?
would you pursue
the white within white,
its purest, unknowable
secret? in the clearest water,
what fish? in the iciest air,
what passions might entwine?
white drawn from white
will not whiten
does one more white
efface another? or do they breed
new swans, new jasmines?
sleepless night finds its end
in the white scales of dawn, dust the old walk through
silvers their hair, white clouds softly sprawling
night's dews stiffen into frost
boiled white beans, crushed, yield life's new milk
dappled on white stones
spring's lights and shadows

廖偉棠
|
Liu Wai-tong
讀中唐史

突然半夜裏下起雪來,
有人在青色的雪地上易子而食。
去年今天,我在這裏
為即將死在返鄉途中的長官寫過一首壯行詩。
叛軍打著火把走過江邊
走過我的身邊并唱著胡人的歌。
唱就唱吧,反正我也聽不懂,
如今我的白衫破爛但我更像一朵花了。

MID-TANG HISTORY

Midnight, suddenly more snow
on snow-blue ground. To eat,
some exchange dead babies.
Last year to the day, I was here
composing a cheery farewell verse
for an officer who'd die going home.
On the riverbank, the rebel army
passing with torches,
singing some barbaric tune.
Let them; I can't make out a word.
Today, my white shift tattered,
I'm more like a flower.
some exchange dead babies: In periods of war, siege, and famine throughout Chinese history, it was said that starving and desperate parents, whose infants had just died, might exchange the small corpses with those from other families, not wishing to eat their own. In this way, survivors might live on. The Tang dynasty lasted from 618-907 AD.

杜家祁
|
Tu Chia-chi
某詩歌研討會後

翻修後的古老教堂倒也整潔
我卻貪望窗外對座的殘破廟宇
陽光像一隻鴿子棲息在瓦簷上
室內微風消不去初秋延留的沉溽
眾人發表對詩歌各種的看法
有些新穎、有些陳舊
午後的氣息懨懨
陽光像一隻老貓臥睡在瓦簷上
天花板垂下的風扇慢慢地旋轉
會議結束後便是照團體像
我不安定的眼光望過攝影師肩膊
看見黑白近黃的教會歷史照片
掛在新刷的白色粉牆上
朋友堅持要到廣場一遊
只為那是代表性的地區名勝兼古蹟
在只剩一面牆的古老建築面前
有無數鴿子自由的飛翔
我們隨手把詩集放在階梯上方
也有遊人好奇的觀望
頑皮的風吹起一張張的書頁
陽光趁勢把詩集瀏覽了一遍
有些寫得好,有些寫得不好
我想陽光並不會介意

AFTER A POETRY SEMINAR

The ancient church well-restored
but my gaze goes beyond, to the shattered temple,
sunlight perching like a pigeon on its eaves.
The breeze inside our room
cannot dispel autumn's damp.
About poetry, everyone has opinions,
some original, some clichéd.
The afternoon's weary as an old cat,
sunlight drowsy on the rooftiles. How slow
the ceiling fan rotates its blades.
Afterward, the usual photos.
Uneasy, I look past the camera
at yellowed shots of missionaries,
the freshly whitewashed wall.
A friend insisted on this plaza
for all its history.
From its last standing wall
wheel twenty pigeons.
Amid the gaping tourists
we set our books upon the steps.
The wind's mischief ruffles pages
for the sun to browse.
Some poems written well, some poorly,
the light indifferent.

王良和
|
Wong Leung-wo
竹

像茫然的讀者
不知道如何進入
斜坡上那一叢花眉竹
詩畫難分的意境
永夜潑墨未乾,月色
像吸墨的黃紙
輕輕蓋住
一幅文與可的墨竹圖上
此時風鳴兩岸
搖擺的竹樹婆娑作響
竹葉圍攏唼喋,商略
一首輞川絕句的韻腳

BAMBOO

As if on a slope
before a grove of Mahal bamboo,
not knowing how to enter,
it's hard to say
where poetry parts from painting.
Across the yellow, thirsty page of moonlight
night spills its endless ink,
a scroll of dark bamboo
by Wen Yuke. Late wind
whistles the banksides,
swaying the canes, their leaves
stirred to the soft murmur
of foraging birds, of fish
discussing a Wheel River poem,
its final rhyme.
Mahal bamboo: A species of thick growing, clumping bamboo particularly suited to stabilizing riverbanks.
Wen Yuke: Northern Song dynasty painter and poet (1018—1079), courtesy name Yuke, famous for his ink bamboo painting.
Wheel River: Shaanxi province mountain valley where Wang Wei composed with Pei Di the famous Wheel River cycle of poems, also known as the Wangchuan Ji.

胡燕青
|
Wu Yin-ching
白瓷花碗

視覺的古鍵鈴,透光的空心月
未見的縫璺隱隱含吐破裂的浪聲
指頭點渡,薄甲輕敲
碎與未碎之間
風中小瓦的飲泣
我的心為你本來的完整
耿耿陷落於得失
隱藏的驚懼溢滴如簷雨
一滴,一滴,又一滴
掌心為你漸漸降溫的乳色無故發熱
顫抖的雙腕將你齊眉舉起
好像只有大光的純粹
才托得住你短暫的行程
真的,誰忍心你貞亮的弧岸
受煙,沾油,與一堆熟米爛粥黏黏糊糊
誰忍心你被造,又淪亡
聽覺的潤物雨,月鍍的鐮刃霜
未見的遺忘慢慢磨削深刻的鍾愛
山何委頓,地竟忘情
造與未造之間
泥上大手的遲疑

WHITE PORCELAIN FLOWER BOWL

To the eye, an ancient bell. Translucent hollow moon.
Microscopic fault may breathe a wave of cracks.
Merely a touch, the tap of thin fingernails.
From whole to broken,
the faint sigh of a rooftile in the wind.
I take this frailty to heart,
the fear of gain or loss,
the trembling of rainbeads at an eave,
one drop, another,
my palms damp while your milky color cools.
I raise you in respect,
as if pure light might suspend you.
Created, but made for ruin,
the chaste arc of your rim
suffering smoke, oil stains, crusts of rice or meal.
Soft rain nourishes the ear. Moon-silvered sickle of frost.
Unseen oblivion hones its affection.
How spent the mountains, how forgotten the ardors of earth.
Create or not create—
in this clay, the great hand hesitates.

Foreword/序
Foreword
by George O'Connell
Though most Hong Kong residents are familiar with their city's history and present circumstance, other readers, especially in western countries, may be less so. For them, primarily, we offer this outline and a few remarks.
Contemporary Hong Kong, at least in its current incarnation, occupies a unique position, a cosmopolitan quasi city-state poised between two monoliths, the English-speaking west and mainland China. At this writing, it's unclear how long that balance will continue, and under what terms.
Hong Kong's geographic footprint remains small, from the original 1841 British territory of Hong Kong Island to the later inclusion of the Kowloon Peninsula, north to its border with Chinese Shenzhen. Hong Kong's steep, vista-rich topography limits buildable and livable land, but its long role in world trade far outstrips its physical size.
From Hong Kong's beginnings as a deep, protected harbor and transit point for outgoing Chinese goods and western imports, it swiftly accommodated citizens from all over the world, particularly after World War II. To this extent, it's become a city of the future, polylingual and richly polycultural. Despite their differences, Hong Kong's people live together with apparent tolerance and comparatively little intercultural or interethnic friction. Hong Kong is equally notable for its preservation of traditional Chinese culture. Like Taiwan, it was spared the frenzied iconoclasm of the mainland's ten year Cultural Revolution. Its links with the classical Chinese past, insofar as these have survived more than a century of western modernization, remain intact.
Most ethnically Chinese Hongkongers speak Cantonese, though Hakka dialect is also spoken by the region's more indigenous people. After the 1949 Communist revolution, many mainland Chinese, whatever their native tongue, entered Hong Kong and stayed. Over subsequent years, and particularly following 1989's Tiananmen upheavals, mainland poets, writers, artists, and intellectuals made their way across the border, seeking Hong Kong's peace and freedom. In the contemporary poetry scene, these and the city's more recent immigrants form an interesting and vital subset, though Hong Kong's population, aside from its original fishermen and farmers, has overwhelmingly come from elsewhere. This anthology includes only poets writing primarily in Chinese, all native Chinese speakers, though some were born in Mandarin-language areas of the mainland or in Taiwan. Beginning in the 1950s, mainland Chinese script employed jianti, a simplified form of characters, while Taiwan and Hong Kong continued using fanti, the more complex traditional characters. Aside from this distinction, and varieties of expression, written Chinese is similar everywhere, though spoken Cantonese differs markedly from Mandarin.
Hong Kong has over the last few decades become a corporate town, focused on banking and finance. Most of its factories, large or small, left years ago for the mainland. Its pace, as frenetic as New York or London, and its stratospheric property values, leave limited room for a bohemian or art community. The cost of apartment ownership has steadily risen beyond the reach of most, while rents, even for shoebox flats, consume a large part of the average income. Given their tiny living space, ordinary Hong Kongers seldom entertain at home, preferring cafés or inexpensive restaurants to their cramped personal quarters. Aside from the general Chinese regard for dining as convivial delight, even sacrament, this particular Hong Kong circumstance may account for the wealth of food in its poetry.
Hong Kong proper is an island, surrounded by other, smaller islands. Its city center, divided by Victoria Harbour, is on one side Hong Kong Island, on the other the south shore of the Kowloon Peninsula. Waves, piers, vessels of every sort, and lights shimmering across water are never far from one's gaze. Though the city has modern supermarkets, its byways and traditional "wet markets" gleam with flowers, stacked vegetables, fruits, tubbed tofu, and tanks of fresh fish. From shin-high sidewalk shrines, incense curls upward. Hong Kong is also hilly, with forbiddingly steep mountain slopes cloaked in tropical green, its terraces perched atop massive granite retaining walls. Such impressions thread the days of those who live here—their dreams and memories, their imaginings.
If many of these poems are set in contemporary Hong Kong, others range across space and time: from the airless crypt of a Han dynasty tomb to the stones of the Roman Pantheon. From a barren mid-Tang snowscape in a poem by Liu Wai-tong, where the starving eat dead infants, to roses at Rilke's Swiss graveside. Nearly all serious contemporary poets writing in Chinese, whether in Hong Kong, Taiwan, or the mainland, have nourished themselves on western poetry, just as western poets since Pound have learned from the immortal art of ancient China and Japan. Though elements of classical Chinese may not be present in all these poems, one senses its influence, frankly or subtly, on many. Some, as in Wong Leung-wo's "Bamboo", arrange finely honed evocations as stirringly resonant as painterly brushstrokes from the Tang. Certainly the poems of Wu Yin-ching, as in "White Porcelain Bowl", "Fine Subtle Breathing", "Slipknot", or "Meeting, Parting" strike an exquisite balance between contemporary sensibility and the most delicate classical Chinese notes. Huang Canran's "Looking" and "Knowledge", and Lau Yee-ching's "Magician" achieve a depth and fullness attainable only through intense compression, a signal virtue of the best Chinese ancient poetry. Lau's "Flying Ants Drawn to Water", with its summoning of ancestry, enchants a vivid, sharply rendered childhood narrative into our own memories.
Cao Shuying, a thoroughly modern poet, travels widely through the world and her imagination. Her "I Often Read, Early Mornings", a silky and edgily current suite of oblique impressions, weaves a stunningly surreal close: "A frost grain's my sled dog, / a wheezing galaxy my ice." Chan Chi-tak's "Ambulance", complete with its Old Testament reference, dramatizes a moment when we suddenly grasp our common mortality, and thus our tenuous lives, and could be set in any city. Derek Chung's "Thoughts on a Troubled Night", in homage to an ancient Li Bai poem, grants entrance to the mind and heart of a new father hearing the ambiguous breaths of his child. Tu Chia-chi's "Vernal Equinox" presents a bold yet elegant assertion of female desire at spring's high tide.
The dozen poems by Leung Ping-kwan, Hong Kong's best known poet, were written in the last year of his life, as he fought lung cancer, though a non-smoker. Some, such as "Gleaming Lights Far Off", rise to metamorphic transcendence. Ping-kwan was large-hearted and forgiving, yet we find in his "The Wanderers" a further release from irony, a strengthened tenderness. "White on White", masterly precise, considers the purities of abstraction before invoking the material particulars, then leads the ordinary, the mortal, and the ethereal toward renewal. While his poems endure, Ping-kwan's grace, his art, his generosity and sweet genius are missed by all who knew him.
The editors and translators, one born in North China and the other in the U.S., have lived less than a decade in Hong Kong. Their views expressed here may thus be foreshortened, though Ms. Shi completed her graduate studies at the Chinese University of Hong Kong. Since 2012, they have operated Pangolin House, an international journal of Chinese and English-language poetry and art, from which many of these poems and translations are drawn, and under whose imprint this book appears.
Despite the volume's English following American usage, we acknowledge Britain's formative and enduring legacy to Hong Kong by presenting the title's "Harbour" in its British spelling, as is locally correct.
Lastly, the sequence of poets is Roman-alphabetical by family name.
Book Launch/首發式
《渡·香港當代詩人十家》首發式暨讀詩會將於2017年7月11日晚7至10時在香港中環下亞厘畢道2號藝穗會樓上劇場舉行,免費入場,歡迎各界朋友前來參加。活動邀請到詩集中九位詩人,曹疏影、陳滅、鍾國強、黃燦然、飲江、廖偉棠、杜家祁、王良和、胡燕青,分別朗誦各自收錄於書中的作品。已故世人梁秉鈞的詩作將由青年詩人宋子江、鄭政恒朗誦。部分詩歌英譯本由譯者史春波和美國詩人George O'Connell朗誦。
是次活動由Pangolin House主辦,香港藝術發展局、香港藝穗會贊助。藝穗會查詢電話:2521 7251。
有限數量的詩集將在讀詩會上出售,100元港幣/冊,讀者可通過art-mate活動頁面預先訂購,現場取書。
Book launch and reading for Crossing the Harbour, Pangolin House's bilingual anthology of ten contemporary Hong Kong Chinese-language poets. Held July 11 from 7~10PM in the "Upstairs" at Fringe Club, 2 Lower Albert Road, Central, HK. Free and open to the public. All nine living poets will read from their poetry in Chinese, with work by the late Leung Ping-kwan (Ya Si) presented by HK poets Chris Song and Matthew Cheng. Anthology poets include Cao Shuying, Chan Chi-tak, Chung Kwok-keung, Huang Canran, Lau Yee-ching, Liu Wai-tong, Tu Chia-chi, Wong Leung-wo, and Wu Yin-ching. Selected English versions will be read by their translators Diana Shi & American poet George O'Connell.
This event is supported by the Hong Kong Arts Development Council, Fringe Club, and Pangolin House. For more information, contact the Fringe Club at 2521 7251.
Limited copies of the anthology will be available at the reading for $100 HKD each. You may also pre-purchase online HERE at art-mate and collect at the event.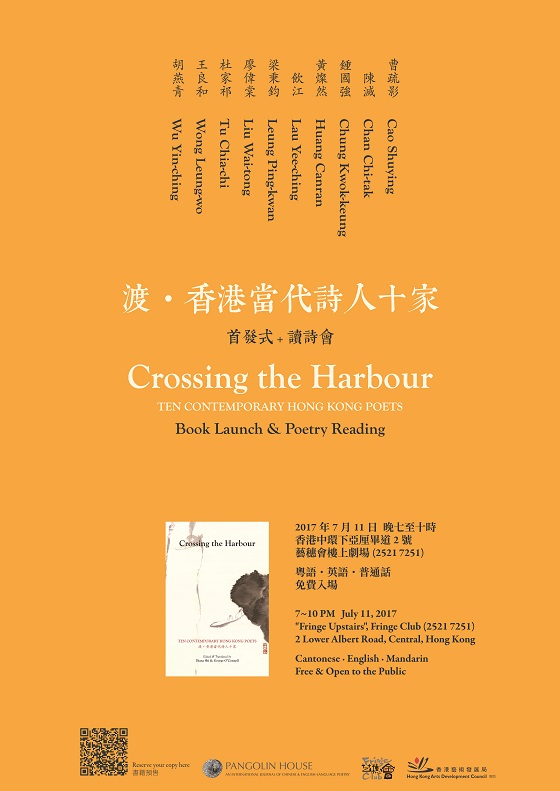 Buy the Book/購書
《渡·香港當代詩人十家》現可從香港以下書店購得,若有其他疑問,請電郵至editors@pangolinhouse.com
Crossing the Harbour is now available at the Hong Kong bookstores listed below. You may also email editors@pangolinhouse.com for further details.
田園書屋 Greenfield Bookstore
漢榮書局 Hon Wing Book Co. Ltd.
天地圖書 Cosmos Books
序言書室 Hong Kong Reader Bookstore
大眾書局 Popular.com.hk
中華書局 Chung Hwa Book Co.
三聯書店 Joint Publishing
商務印書館 The Commercial Press
南丫部落 Lamma Corner(南丫島榕樹灣榕樹灣大街92號A地下 / 92 Yung Shue Wan Main St, Lamma Island)